Ethereum Surges After BlackRock Trust Filing, DOGE, ORDI, FTT, Nov. 13
ETH
Ethereum started to chase Bitcoin last week with gains of 10% on the news that BlackRock had filed for an Ethereum-based trust.
The world's largest asset manager started a surge in crypto interest when it filed a Bitcoin spot ETF application in recent weeks. Investors have been piling into BTC with hopes for investor interest in the ETF and the Bitcoin halving due next year.
BlackRock registered the iShares Ethereum Trust as a Delaware statutory trust last week, while Nasdaq also filed a proposal on Thursday to list and trade shares of the trust. So far, almost a dozen ETF providers have filed to create spot bitcoin ETFs or convert existing products into spot ETFs, helping to fuel the recent rally in the cryptocurrency.
The SEC has up to 240 days to decide on product approvals and that could push any potential start date to next fall. However, Bloomberg gave a BTC approval a 90% chance by January.
It wasn't all good news for ETH with rival project Solana overtaking Ethereum with the largest number of daily users after a 70% rise in activity on the chain. Artemix data said Solana hosted 356,300 unique users on Saturday, surpassing Ethereum's nearly 330,000 by 10%. 
Ethereum bounced off resistance at the $2,139 level and will need to get above that for further gains.
DOGE
Dogecoin, the world's most famous meme coin, has been seeing some bullish backing recently.
According to recent data from IntoTheBlock, Dogecoin has been the focus of a surge in whale interest over the last few weeks.
DOGE whales have increased their holdings with accounts of over $100,000 rising in value from $7.65 billion to $9.35 billion over a one-month period.
Analyst Kaleo has over 600k followers on X and believes DOGE could surge in the coming days or weeks. He said:
When DOGE starts moving higher, it usually moves pretty fast. I wouldn't be surprised to see a daily from here to somewhere in the 9 – 10 cents range, chop there for a bit, then another daily to ~15 cents. It'll be a fast move.
He also believes that a larger rally will happen in 2024. Investors are still hopeful that X owner Elon Musk will add the coin to his social media when it rolls out its planned payments capability. Altcoins have been slower to catch up to Bitcoin's recent price gains but often lag behind as BTC dominance increases.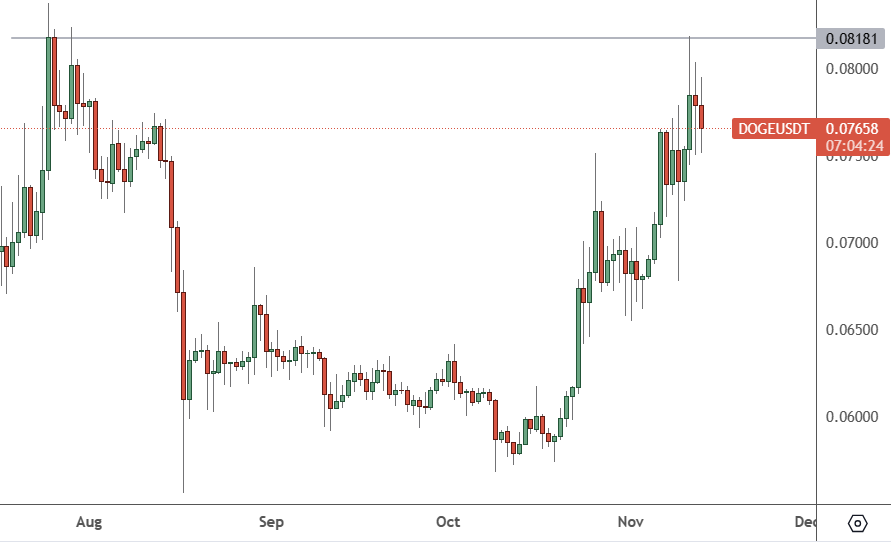 DOGE was trading at $0.0765 on Monday after touching resistance at the April highs. A push-through is needed to keep the bull run alive. DOGE is currently the number 10 cryptocurrency with a valuation of over $10 billion.
ORDI 
ORDI was a strong performer this week with gains of over 100%.
Ordinals is being boosted by the recent strength in Bitcoin as the protocol allows users to write information to each BTC that is mined, such as text, pictures, and audio. The goal of the project was to allow the creation of Non-Fungible Tokens (NFTs) on the Bitcoin ecosystem.
Bitcoin transaction fees have now risen to a six-month high due to the resurgence in the popularity of Ordinals. Data from BitInfoCharts said that the average transaction fee is trading at its highest point since May, after a 2,000% since the August low of $0.64. Average BTC transactions were trading at around $15 but fell back to $6.
Ordinals surged in popularity when they were launched earlier this year, but interest faded. 
These assets had gained popularity earlier in the year and heralded Bitcoin's foray into the NFT space. But interest in them soon faded as the market landscape evolved. The market cap of the protocol hit over $400 million last week catapulting the project back into the top 100 cryptocurrencies.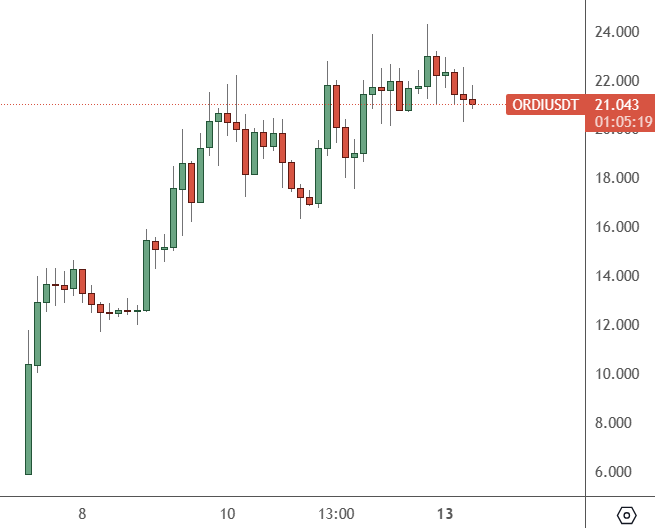 ORDI was trading at $6.00 just over a week ago and has now settled around the $21 level.
FTT
The top-performing coin this week was FTT, the native token of the failed FTX crypto exchange.
FTT surged by 181% over the last seven days as investors believe it may have future utility. The rise in FTT was also spurred by comments from SEC Chair Gary Gensler's comments that he was open to a restart of the exchange, "within the law."
The exchange was once valued at over $30 billion but famously collapsed in a matter of days in November 2022. The exchange's founder Sam Bankman-Fried was last week convicted of numerous charges last week and faces a lengthy jail sentence. 
Gensler's comments came following reports that three bidders are circling FTX, including former NYSE president Tom Farley's crypto exchange Bullish.
The latest move is a speculative play as any new founder may not want to revive the FTT token on the platform.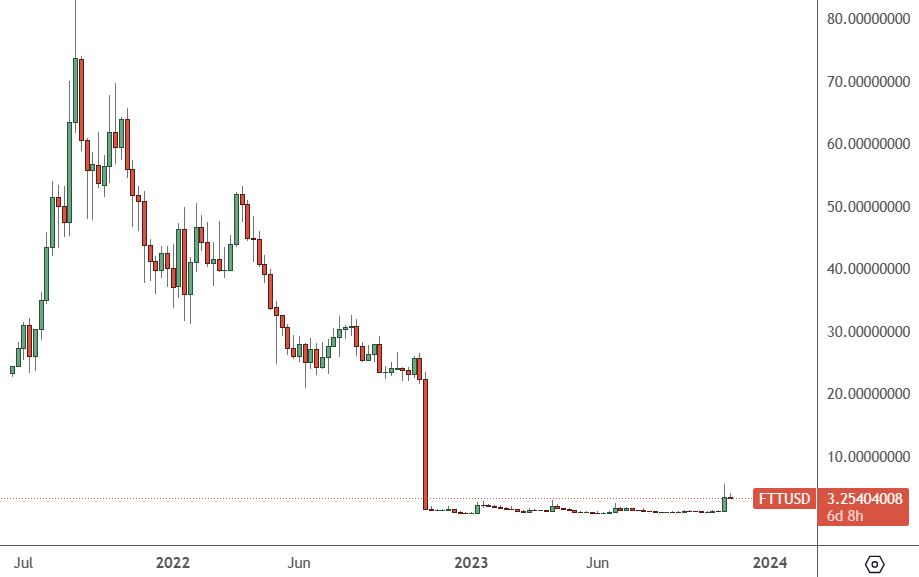 The price of FTT was now trading around the $3.20 level after tumbling from its all-time high of $80.